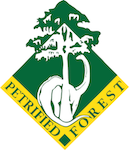 Petrified Forest
Learn about South Dakota's
Prehistoric Significance!
During the early Cretaceous Period, the entire North American continent was located much farther south. The area, now called South Dakota, was a few degrees to the south of our present latitude and was much closer to sea level. Also, at that time, there were no Rocky Mountains. The combined effects of these geographical differences resulted in an entirely different climate and air mass circulation patterns. During the Cretaceous Period, what is now South Dakota experienced higher average temperatures and greater precipitation than occur here today. Over the great expanse of geologic time, the North American plate acted as a huge barge, carrying the fallen trees that were buried under sediments. As the land mass gradually moved north and west, petrifaction of the trees occurred.
Opened publicly in 1929 the Petrified Forest of the Black Hills is one of the largest out-cropping of fossilized petrified wood in the area.
Elk Creek Resort's Petrified Forest of the Black Hills offers a one hour tour starting with a 15 minute video which takes you through the history of the Black Hills from the earth's beginning to present day. The tour continues through our Museum which houses Petrified Wood, Rocks & Fossils that are 120 to 130 million years old. You will then hike through the Petrified Forest and experience the knowledge gained from the video and museum.
South Dakota has an abundance of Different Fossil Species.
The terrain today is not the same as it was during the Cretaceous Period.